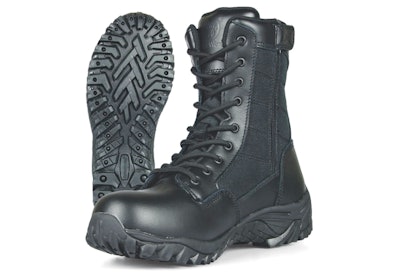 Smith & Wesson is a familiar name in the law enforcement business. Odds are there is more than one pistol or pair of S&W handcuffs at your agency. I'd bet the name rarely comes up when talking about duty boots though. That is, until now.
Smith & Wesson is a very versatile company, producing not only firearms but a wide variety of other items for the firearms and law enforcement communities. The company's latest venture is into the footwear market with three robust duty boots: the Tac, Breach, and Hiker series. S&W sent me a pair from the Tac line for testing; an 8-inch waterproof, side-zip leather boot perfect for active duty use.
Out of the box I was impressed with the Tac boot's clean, classic styling. Putting them on for the first time they were snug and a little stiff, especially in the heel area. This is to be expected from any good duty boot though, as the robust construction necessary to make them tough and long-lasting generally takes a shift or two to break in. By the third day I was pretty happy with how comfortable they had become and how light they felt on my feet.
The soles are all rubber and have an aggressive tread pattern that extends up the sides of the boot; ideal for those working in rural or winter environments. I found it created a good grip and was not at all slippery on wet surfaces. Arch support is good but not great and is likely ideal for most wearers. The insoles are removable and the footbed is wide enough to accept most orthotics should you decide you need a little more support. The Tac boot is what I would consider pretty standard to bordering on wide. I sometimes wear a wide shoe, depending on the manufacturer, and these fit perfectly with just enough wiggle room to be snug yet comfortable.
The upper construction is made mostly of durable leather with side panels of nylon for flexibility and breathability. The leather construction makes these puncture resistant and windproof, keeping your feet safe and warm in the colder months. The nylon upper panels allow the foot to breathe, keeping your feet dry as well.
Completely unzipped and unlaced, there is ample room to slide them on without a great deal of force. The laces are robust and lacing them up tight is no problem at all; no fear of snapping a lace here. The YKK side zippers work well but are a little on the small side. Only time will tell how well they hold up to constant use. With the boots laced I wasn't able to get them off using only the side zipper as the leather web behind it, necessary to keep them waterproof, will only allow them to open up so far. The zipper is a nice feature that provides a little extra room with the boots unlaced, but plan on lacing them up every time you put them on, as the side zipper likely won't get the job done on its own.
A real leather, waterproof duty boot with a retail price just over $100 is rare in today's market. Smith & Wesson Footwear's Tac boots are a solid choice for anyone looking for a great looking, solid duty boot on a budget.
Smith & Wesson Footwear SW8Z Tac Side-Zip Boots Specs:

• 8 inches high
• Waterproof leather and nylon upper
• Lightweight EVA midsole
• Rubber sawtooth outsole
• YKK side zipper
• Removable comfort PU insole
• Puncture-resistant insole
• Slip- and oil-resistant outsole
• Non-marking outsole
• Cement construction
• Sizes: 6-12, 13 regular and wide
• Price: $119.95