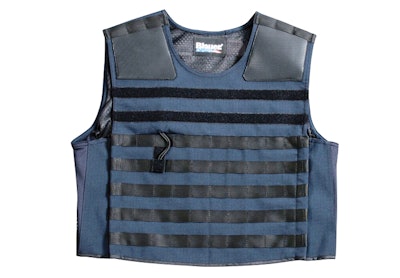 Blauer's popular ArmorSkin outer vest recently got a tactical makeover. The new ArmorSkin TacVest takes the affordability and comfort of the original uniform-styled ArmorSkin and adds the tactical versatility of MOLLE webbing and reinforced shoulder pads. These are great features that suit the new TacVest for a variety of law enforcement applications beyond uniformed patrol.
ArmorSkin is a simple yet ingenious shell that houses a concealable ballistic vest. It allows the wearer to quickly and easily don and remove the vest without first removing a shirt or any other gear. The ability to shed your armor while writing reports or taking a quick break is much appreciated, especially by those of us who work in the Arizona summer heat.
For those of us who work in non-uniformed or undercover assignments, the need for a versatile mounting platform that can be quickly donned is also essential. We spend most of our day being discreet, but there are times when we need to gear up and be readily identifiable. Traditionally, this meant either wearing a duty belt with a raid shirt or spending thousands on a dedicated tactical vest. The former isn't practical and the latter is generally frowned upon by those controlling department budgets. Blauer's new TacVest solves both of these problems.
The durable polyester rip-stop shell features five rows of MOLLE webbing, two strips of hook-and-loop material, two concealed breast pockets, and a reinforced shoulder pad on both sides. The back features another five rows of MOLLE and two strips of hook-and-loop material. This gives the wearer more than enough real estate for a variety of pouches and identification patches. The interior has a mesh lining that wicks moisture away from the body and allows for excellent ventilation, all while keeping the weight to a minimum.
Using the ArmorSkin TacVest is a breeze. Simply insert your existing concealable armor, including the carrier and all the straps, into the vest, throw it over your head, adjust your straps to fit, zip up the sides and you're done. Installing my concealable vest took about five minutes including a few adjustments. I added pouches for handcuffs, a radio, and two magazines and the vest held up to the weight without sagging. I wouldn't recommend adding anything larger though, as the TacVest is designed to be quick and light, not a heavy tactical armor platform.
Overall I was impressed by the design, comfort, and versatility of the TacVest. With a retail price under $100 the new TacVest is an excellent value.
Rugged fused polyester ripstop shell is low-profile and is machine washable
Patented Flow-Through design accommodates any armor brand, even full-coverage styles
Two hidden chest pockets for paperwork and gear, including radio
Convert a concealed vest into a "go vest" in minutes
Price: $94.99
A.J. George is a patrol sergeant with the Scottsdale (Ariz.) Police Department.