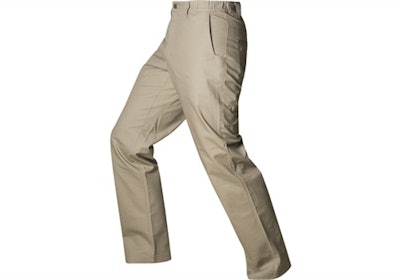 A law enforcement officer should never underestimate the value of a good pair of pants. You'll know you've gone cheap when buying your tactical pants when you hear that daunting ripping sound as soon as you put a little stress on the seams. But tactical pants don't have to look like an Abrams tank to be durable. Sometimes you can get the best of both worlds: rugged on the range and in training yet professional and clean enough for the office.
Vertx VTX1100 Core Casual pants are just that versatile. Made with 9-ounce, 98% cotton and 2% Lycra Advantage Stretch fabric, the VTX1100 pants from Vertx (a Fechheimer brand) offer heavy-duty fabric with just enough stretch to make them super comfortable. The stretch waistband and gusseted inseam provide ample room for just about any activity. No more torn seams here.
The Core styling is what sets the VTX1100 Core Casual pants apart from most of their tactical brethren. Gone are the large cargo pockets and flap enclosures. The Core line features clean, straight legs and besom (welted slit opening) back pockets to make them pair nicely with a dress shirt. Both side pockets are notched to accommodate a flashlight or knife clip easily and there's a concealed, zippered pocket on the right side to stow away valuables.
I put my test and evaluation sample of VTX1100 Core Casual Pants into my regular "work pants" rotation, and after a few weeks of wear, they're holding up like a champ. The only "wear" I've experienced is how the pants just become more comfortable as they break in. The simple and clean look doesn't look tactical, but they're just as comfortable and functional. The stitching is robust and the fabric is holding up very well.
The Vertx VTX1100 Core Casual Pants are available now in khaki, desert tan, and Smoke Grey with a retail price of $69.95. If your job demands a mix of tactical function with professional good looks the VTX1100 Core Casual Pants might be just the ticket.
A.J. George is a patrol sergeant with the Scottsdale (Ariz.) Police Department who also serves as the SWAT team's crisis negotiations supervisor.