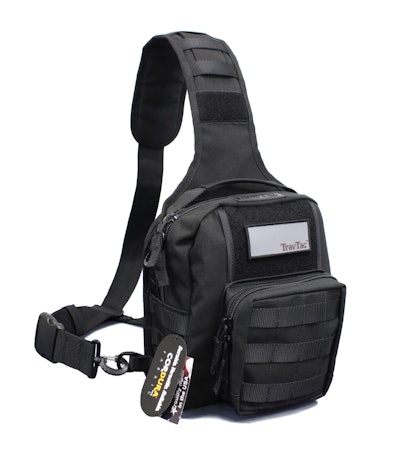 Sometimes the little companies make some of the highest quality gear. It just makes sense. After all, a small product line allows for an intense focus on the design and quality of your products. TravTac is one such company that has been cranking out rock-solid tactical sling packs right here in the good old USA.
The Onyx Tactical Sling Bag arrived at my door complete with the company's TravTac Modular Components (TMC) and universal holster accessory kits. First impressions were positive and I could immediately tell this bag was different. The 1,000-denier Cordura nylon construction is incredibly robust and very rigid in all the right places. The large YKK zippers that secure the Onyx's three large storage compartments are just as robust yet glide with ease for quick access to your gear inside.
Starting at the front and working back, the Onyx has a smaller admin pouch that opens wide and is lined completely with loop fabric for attachment of any number of accessory panels. The main compartment is very large—9"x11"x4" to be exact—and is also lined with loop fabric behind a pair of elastic nylon pockets for smaller items. The padded and ventilated rear panel is flat and opens completely to reveal more loop fabric designed to accommodate a concealed holster and/or magazines. Total capacity is just under 9 liters; pretty impressive for such a small bag. If you're in need of a bit more capacity the Onyx has three rows of MOLLE surrounding the bottom half of the bag to accommodate an endless variety of pouches.
The wide, padded sling strap itself is unique in that it isn't sewn onto the pack. Instead it is one continuous piece of Cordura that forms the back panel, which means there are no stitches to fail. The bottom attachment point can be switched from left to right depending on the wearer's preference and quickly released via the large Fastex buckle. The Onyx even comes with a waist strap kit to keep it even more secure during vigorous activity. When it comes time to dive into your gear the Onyx sports a heavily reinforced top carry handle and a flat bottom to keep it upright.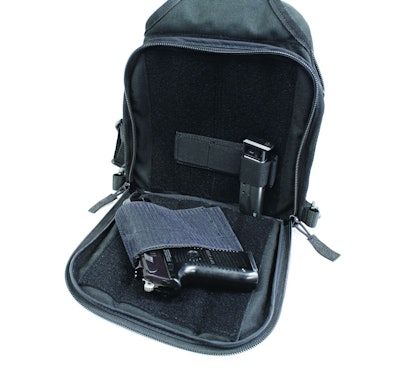 I've been carrying a similar pack for a while now so the transition to the Onyx was easy. What I initially considered to be a concern actually turned out to be a positive and that is the Onyx's rigidity. When wearing the pack this sturdy construction keeps it from slouching and helps to distribute the weight. Even when fully loaded with several pounds of gear the Onyx was incredibly comfortable and after several weeks of use it has shown zero signs of wear. If you're in the market for a solid EDC or active shooter bag that'll last you a career, give the Onyx a look. High-quality gear made stateside for a very reasonable price; it doesn't get any better than that. —A.J. George
A.J. George is a sergeant with the Scottsdale (AZ) Police Department who is assigned to the Technical Operations Unit, Special Investigations Section. He has more than a decade of law enforcement experience in patrol, field training, and traffic enforcement.