In the aftermath of 21 students and teachers being murdered in the May massacre at Robb Elementary School in Uvalde, TX, chiefs and sheriffs are now providing their school resource officers with long guns, hard armor ballistic protection, and even gun detecting dogs to prevent or minimize the carnage from active shooter attacks.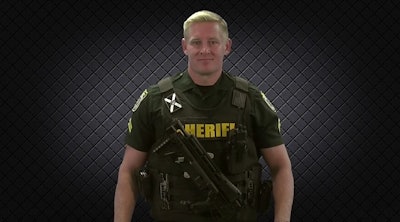 Brevard County, FL
Brevard County Sheriff Wayne Ivey has hardened the schools in his county that could be targeted by an active killer. He's also given his school deputies a more tactical posture.
Ivey said on a Facebook Live video released by the agency that he believes in preparation as key to winning a violent confrontation. Quoting ancient Chinese martial philosopher Sun Tzu, Ivey said, "Every battle is won or lost before it is fought."
In preparation for a confrontation with an active shooter, Ivey has supplied his SROs with new tactical uniforms that are green and with external armor carriers that read "SHERIFF."
Ivey has also given the school deputies more firepower. In addition to their sidearms, SROs in Brevard County are now carrying SUB2000 pistol-caliber carbines with folding stocks. The carbines are manufactured by locally based KelTec.
Although some in law enforcement criticize the choice of pistol caliber carbines because of their limitations against armored suspects, Ivey believes having them on their person gives his deputies an immediacy advantage. He says they will not have to go to their vehicles to grab a long gun.
Hillsborough County, FL
The Hillsborough County Sheriff's Office has ordered a number of B&T APC9 Pros with folding stocks and Aimpoint optics. The pistol caliber short barrel carbines with Glock 9mm lower receivers are being issued to SROs, according to RecoilWeb.
"Many of our specially selected Deputies have been employing B&T USA APC9 models for several years now, and the feedback I have received from them is they couldn't be more satisfied with the performance of these modern, compact, and versatile 9mm platforms," stated Sheriff Chad Chronister, Hillsborough County Sheriff's Office. "Given the complex nature of some of the more specialized calls for service we have been responding to, expanding the issuance of this high-performance platform provides Deputies with a necessary tool to ensure the security of those we have been entrusted to protect."
B&T is a Swiss company with U.S. headquarters in Tampa, the county seat of Hillsborough County.
Houston Independent School District
In August Houston ISD Police Chief Pete Lopez said his agency needed rifles, shields, and ammunition for more effective active shooter response.
The Board heard from proponents and opponents of the request.
Opponents argued that the money that would go to the police equipment should be spent on more teachers and counselors, Fox 26 reported.
"It is time to invest in those community-based alternatives to policing that make students feel connected," said Travis Fife of the Texas Civil Rights Project. "Students are safest when they feel connected and have a genuine interest in the classroom."
Superintendent Millard House said the school district's police were not prepared in event of an active shooter attack.
District officials voted 6-3 to provide the HISD police with rifles and gear.
Madison County, NC
Madison County Sheriff Buddy Harwood announced right before school started this year that the county's SROs will now have access to AR-15 variant rifles.
The rifles are locked in safes inside the schools. There are also breaching tools in the safes.
"The reason we put the breaching tools in the safes is that in the event we have someone barricaded in a door, we won't have to wait on the fire department to get there," Harwood said. "We'll have those tools to be able to breach that door if needed. I do not want to have to run back out to the car to grab an AR, because that's time lost. Hopefully we'll never need it, but I want my guys to be as prepared as prepared can be."
According to Harwood, the county's school resource officers trained with instructors from Asheville-Buncombe Technical Community College.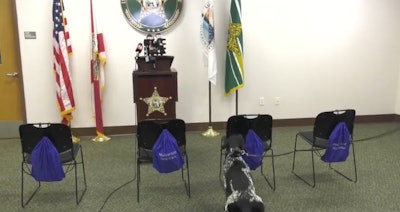 Marion County, FL
Sheriff Billy Woods is not revealing what equipment and weapons he has provided to Marion County SROs. But he is being very open about a new asset the agency has added to find firearms inside the schools.
At an August press conference, Woods introduced Albi. Albi is a German short-haired pointer and she can detect firearms, ammunition, spent casings, gunpowder, gun oils, and even gun lubricants.
Woods said Albi and her handler Cpl. Erik DeAngelis would be visiting county schools at random. The K-9 team would also answer requests from the school superintendent and from individual school principals.
The sheriff warned anyone who is planning to bring a gun to a Marion County school not to do it because Albi will catch them.
About the new K-9 team and about the equipment his SRO have available, Woods said, "I will use everything I have at my disposal for my deputies and have them equipped with every tool possible in their hands to take out the individual or prevent that individual from harming a single child."