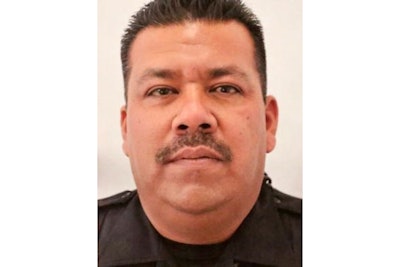 David Ernesto Murillo, 29, pleaded guilty to all 39 charges in connection with the fatal shooting of Nogales, AZ, Officer Jesus Cordova in April 2018. Prosecutors had planned on pursuing the death penalty, but dropped it in exchange for the guilty plea, reports KOLD.
---
Related: Arizona Officer Shot and Killed by Carjacking Suspect
---
Three of the charges carry a sentence of natural life in prison. Murillo's charges include first-degree murder, attempted first-degree murder, aggravated assault, armed robbery, kidnapping, burglary, criminal damage, fleeing law enforcement, vehicle theft, impersonating a peace officer and illegally firing a weapon. Authorities said he carjacked six vehicles during a crime spree.
During the incident, Cordova was attempting to stop a carjacking involving Murillo near the market when Murillo got out of the vehicle and fired his AR-15 at least 10 times at Cordova's patrol car, reports the Arizona Daily Star.
---
Related: Prosecutors Seek Death Penalty for Man Accused of Killing Arizona Officer
---
It was the first time since 1888 a Nogales police officer was shot and killed in the line of duty.
Murillo's sentencing is scheduled for Sept. 11.