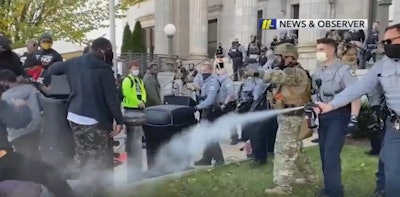 A federal lawsuit is accusing Graham, NC, police and Alamance County Sheriff's deputies of voter intimidation after they deployed pepper spray and made arrests during a get-out-the vote rally Saturday.
The complaint, filed late Monday against the police chief of Graham, a rural community west of Durham, and the Alamance County sheriff, says that protesters were not expecting conflict at Saturday's "I Am Change" march, but that the situation escalated "when deputies and officers planned and orchestrated the violent dispersal" of a peaceful crowd.
The demonstration, attended by about 250 people, coincided with the last day North Carolina residents were allowed to sign up for same-day voter registration and vote early in person, NBC News reports.
The suit accuses officers of excessive force when they pepper-sprayed the participants "suddenly and without any warning," and depriving those who attended the "right to vote free from intimidation, harassment, threats, or other forms of coercion."
"I was unable to vote that day," Ann Jones told ABC11. "I was sprayed four times. I'm not going to say a lot more than that but say that was unnecessary for innocent children and people that are elderly to be sprayed down or hosed down with some kind of chemical agent ... it's just nothing but voter intimidation."
In a statement Saturday, the Graham Police Department said it made eight arrests, including for resisting, obstruction, failure to disperse and one count of assault on a law enforcement officer.
The Alamance County Sheriff's Office on Monday said it had made 15 arrests, mostly for failure to disperse, a misdemeanor.
Lt. Daniel Sisk, a spokesman for the Graham police, told reporters Sunday that no one was directly pepper-sprayed in the face and it was the crowd that "became violent" after police were concerned about safety from the generators used for the march.
A spokeswoman for the Alamance County Sheriff's Office told reporters that a deputy was injured after being shoved to the ground, and "as she was falling, she sprayed her [pepper] spray." She also said deputies told the crowd to disperse three times in the span of seven minutes, but that organizer Rev. Greg Drumwright instructed people to defy orders.