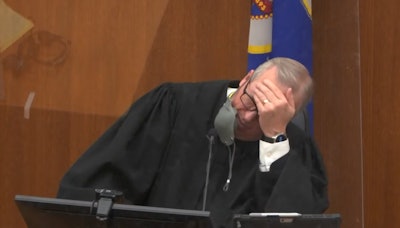 Two jurors for the trial of fired Minneapolis officer Derek Chauvin were dismissed Wednesday after telling the judge that the city's $27 million settlement with George Floyd's family, which was announced after they were seated, made them biased.
Hennepin County District Judge Peter Cahill removed the two who said under his questioning they had heard about a federal lawsuit settlement reached last week and admitted it affected their ability to presume Chauvin is innocent during the course of the trial, the Star-Tribune reports.
One of the morning's dismissed jurors was a Hispanic man in his 20s who said news of the settlement "kind of confirms opinions that I already have. ... I think it will be hard to be impartial."
The second excused juror, a white man in his 30s, said he was taken aback by the size of the settlement. "It sent a message that the city of Minneapolis felt something was wrong," the man said. "That sticker price shocked me. It kind of swayed me, yes."