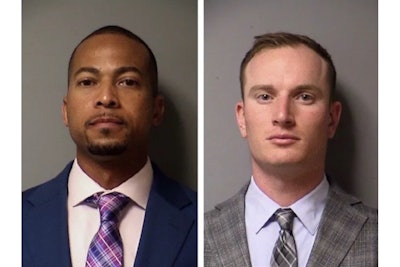 Two years and one day after Javier Ambler II died in custody, a grand jury in Austin has indicted deputies who chased the man for a minor traffic violation that ended in a deadly encounter.
Former Williamson County sheriff's Deputies J.J. Johnson and Zach Camden are charged with manslaughter after they chased Ambler, 40, in a 2019 pursuit that started because he failed to dim his headlights, and then used Tasers on him repeatedly while he gasped that he could not breathe and had congestive heart failure. Ambler died minutes later.
"What we know is that Javier Ambler was a father, a brother, a son and a member of our community, a person of color," Travis County District Attorney Jose Garza said. "He died after deputies repeatedly Tased him ... after he let them know that he could not breathe and that he was dying."
Johnson and Camden could face up to 20 years if convicted of the second-degree felony charge. Under Texas law, a person is guilty of manslaughter if he is aware of "but consciously disregards a substantial and justifiable risk," Statesman.com reports.
Both Johnson and Camden had "Live PD" crews with them the night of Ambler's death. Johnson initiated the traffic stop, and Ambler led him on a 22-minute chase into Travis County, hitting several stationary objects along the way until his SUV became disabled in North Austin.
A&E and the company that made "Live PD," Big Fish Entertainment, have canceled the program. Texas lawmakers are now considering the Javier Ambler Law that would ban such shows from working with police agencies in the state.