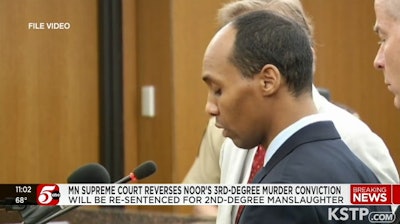 Wednesday, the Minnesota Supreme Court reversed the third-degree murder conviction of former Minneapolis police officer Mohamed Noor. His conviction was based on the third-degree depraved-mind murder charge in the 2017 shooting death of Justine Ruszczyk Damond.
According to court records, the state's Supreme Court ruled to reverse the third-degree murder conviction and send the case to district court, where Noor will be re-sentenced for his second-degree manslaughter conviction. He was originally sentenced to 12½ years in prison, KTSP reports.
The move comes after Noor's attorney, Thomas Plunkett, filed a petition requesting the high court to hear the case after the Minnesota Court of Appeals ruled earlier this year to uphold the 2019 conviction for the shooting death of Damond.
According to the ruling Wednesday, the court wrote that "the mental state necessary for depraved-mind murder... is a generalized indifference to human life, which cannot exist when the defendant's conduct is directed with particularity at the person who is killed."