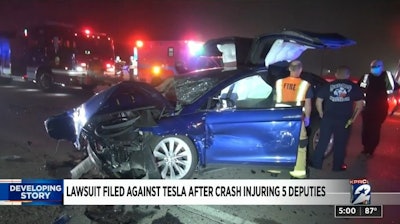 Tesla and Pappas Restaurants have been named in a lawsuit filed seven months after an accident that injured five police officers in Splendora, Montgomery County.
The Buzbee Law Firm and Muery & Farrell PC filed the suit which alleges Tesla has not done enough to address issues with the automaker's Autopilot system.
According to the lawsuit, on Feb. 27, 2021, a Tesla Model X - with Autopilot engaged - crashed into several police officers who were involved in a traffic stop on the Eastex Freeway near East River Road. The suit claims all the officers were badly injured.
The officers are seeking damages for injuries and permanent disabilities. The lawsuit lists damages in excess of $1,000,000, with maximum damages of $20,000,000.
The lawsuit claims Tesla's autopilot system has been linked to at least 12 crashes in the United States involving first responders working active scenes with flashing lights, Click2Houston reports.
The lawsuit against Tesla also lists Pappas Restaurants as a defendant, claiming the driver of the Tesla was overserved alcohol at a Pappasito's Cantina prior to the accident. According to the suit, the police report from the night of the accident indicates the driver was arrested on suspicion of intoxication assault.