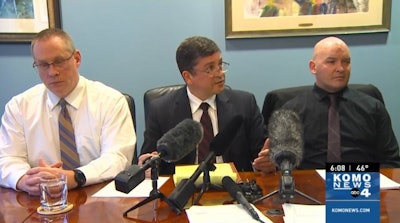 Two Whatcom County, WA, Sheriff deputies who were shot in February are suing their alleged shooter for assault and battery.
Deputy Jason Thompson and close friend, Deputy Ryan Rathbun were responding in the small community of Maple Falls on Feb. 10 where two neighbors were having an argument over burning wood in the backyard when, according to court documents, one of those neighbors, 60-year-old Joel Young, went inside his house, brought out a shotgun, and began firing it into the air.
"I think the last thing I said to him was, 'sheriff's office, drop the gun,'" Thompson told KOMO News. "And then I was shot."
The shotgun blast hit Thomson in the head, breaking his nose and causing him to lose vision in one eye.
Rathbun was also shot, suffering injury to one eye and fracturing his hand.
"They were met with shotgun blasts to the face," said Daniel Horne, the attorney for both deputies.
KOMO says it tried to contact Young's attorney to get his side of the story but did not receive a response.
For Rathbun and Thompson, the lawsuit is about sending a message. "It's about accountability," Rathbun said. "I'm a human. I'm a father."