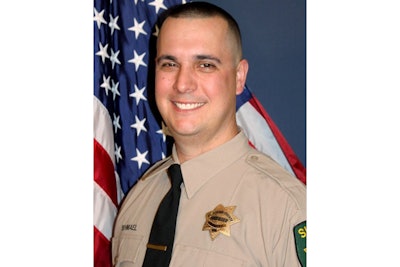 The El Dorado County (CA) District Attorney's Office announced Monday that one of the suspects involved in the killing of El Dorado County Sheriff's Deputy Brian Ishmael was sentenced to 15 years to life in prison.
On October 23, 2019, Ishmael and three other deputies responded to a Somerset home after the property owner, Christopher Ross, reported an alleged theft from a marijuana garden, ABC10 reports.
Ross did not tell the responding deputies that Vasquez Orozco and another worker, Ramiro Morales, were in the garden protecting the crop, nor did he warn them that Vasquez Orozco was armed with a firearm, the sheriff's office says on Facebook.
Juan Carlos Vasquez Orozco opened fire on the deputies, reportedly believing the men were there to steal the drugs. Deputies returned fire.
Vasquez Orozco shot Ishmael four times, eventually killing him. Vasquez Orozco also shot Deputy Josh Tasabia once, causing a permanent injury, and shot at but missed Deputies Shawn Taroli and Brian Shelton. During the prolonged gun battle, Vasquez Orozco was also hit twice in the hip.
On April 15, 2022, Vasquez Orozco was convicted of Murder in the 2nd Degree and two counts of Assault with a Firearm along with three gun enhancements, the sheriff's office reports.
Prosecutors wanted Vasquez Orozco to server 40 years to life in prison.
Instead of following the prosecutors' proposed sentencing, Sacramento Superior Court Judge Sharon Lueras struck all of the gun enhancements and imposed a term of 15 years to life on Vasquez Orozco for the murder of Brian Ishmael.
Judge Lueras justified her leniency, saying that "Vasquez Orozco did not pose a danger to the public, that the crime was situational, that the crimes were merely the result of misinformation and mostly the fault of the property owner."
Prior to January 1, 2018, California judges did not have the discretion to strike these enhanced punishments for violent crimes committed with a firearm. Senate Bill 620 changed that, however, not only giving courts the discretion to strike one, any or all enhancements but creating a non-exhaustive list of "factors" in favor of striking any enhancement that the court must consider and give "great weight" when determining whether to strike an enhancement, the sheriff's office says.