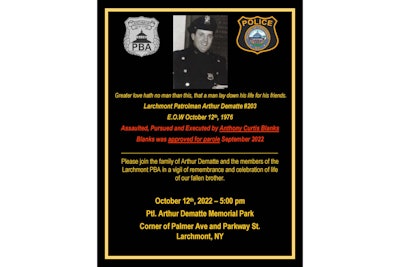 A man who killed a police officer in Westchester, NY, in the 1970s is going to be released from prison on parole.
Larchmont Police Officer Arthur DeMatte was shot and killed with his own gun after trying to rescue a man from railroad tracks in 1976.
Anthony Blanks, now 69, was convicted of first-degree murder and criminal possession of a weapon in 1978 for the veteran officer's killing. He was sentenced to 25 years to life, Fox 5 reports.
Blanks could leave Sing Sing Correctional Facility as early as Oct. 18 after being granted parole. He has been eligible for parole since 2001 but had remained behind bars after being denied parole multiple times.