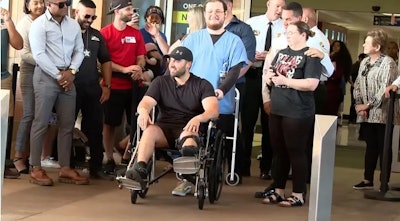 Hillsborough County, Florida, Sheriff's Corporal Carlos Brito and Deputy Manuel Santos are recovering from serious leg injuries suffered Thursday morning when a man allegedly intentionally drove a car into them, slamming them into their patrol vehicle.
On social media on Sunday, Hillsborough County Sheriff Chad Chronister said Brito "is in great spirits, and the medical staff at TGH (Tampa General Hospital) is doing everything possible to set him up for a full recovery," BayNews9 reports.
It was feared last week that Brito would lose his leg because of the attack. He still faces a long, hard recovery.
Deputy Santos was released from the same hospital Saturday. He suffered a broken leg in the attack and officials say it required surgery.
Santos described the incident as the "scariest moment of my life."
According to Santos, on the day of the incident, both deputies thought the suspect had fled the scene, but he came back and hit them in what Santos says felt like seconds, Fox 13 reports.
Officials say Ralph Bouzy deliberately rammed into them, leaving both critically hurt.
Bouzy has been charged with three counts of attempted murder of a law enforcement officer. Bouzy has a lengthy criminal past and records show he had 18 mental health cases, according to authorities.