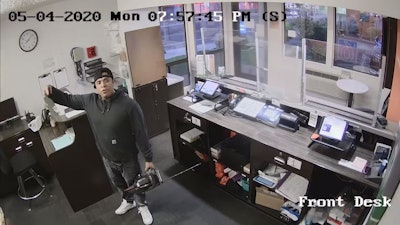 The Washoe County, Nevada, District Attorney's Office has determined that the 2020 officer-involved shooting of 36-year-old Ronal Zendejas of Carson City was justified.
In a 42-page report, the DA's office says that on May 4, 2020, Zendejas entered the office of Motel 6 in Sparks and rented a room for a night, KOLO reports.
For reasons unknown, Zendejas returned to threaten the staff with a running chainsaw. He then left the office, went to his room, made contact with the occupant who was still there, and swung the chainsaw towards him, causing him to flee, and cutting the door and door handle.
Sparks Police Department responded. When officers arrived, witnesses pointed out Zendejas, who was sitting in his blue Honda Accord in the parking lot.
Zendejas tried to flee. The two officers who initially arrived on scene chased Zendejas, who refused to stop. Instead, Zendejas reversed his car and struck a police cruiser before rear-ending into the wall of a nearby car wash.
The officers responded by firing their handguns towards Zendejas, as they believed him to be a danger to them and the public. Zendejas was hit multiple times and died.