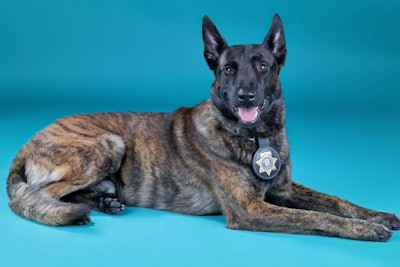 Las Vegas Metro Police officers say one of their K-9s is recovering at a local veterinary hospital after he was stabbed Monday.
Officers responded to a residential burglary around 5:30 Monday, police said on X (formerly Twitter). The suspect was spotted moving into a second residence. He refused to obey police commands, and K-9 Raider was deployed.
Police say the suspect, identified by authorities as 33-year-old Richard Goff, stabbed K-9 Raider.
The wounded police dog was rushed to a patrol vehicle and transported to a veterinary hospital. Police say he is recovering.
Goff was injured during his arrest and taken to a hospital for treatment. Police say that when he is released from the hospital he will be booked on charges, including attempting to kill a police animal, burglary, and resisting arrest with a weapon.