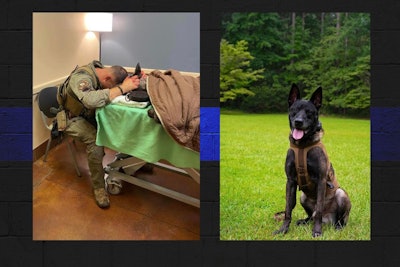 The suspect who shot a SC sheriff's deputy in the head and killed a state agency canine died in a shootout with state SWAT officers and local deputies following an extended manhunt on Johns Island.
Thursday afternoon the Charleston County Sheriff's Office confirmed that 38-year-old Ernest Burbage III was dead. He had been wanted for attempted murder in a shooting Wednesday afternoon and then later in the day, the sheriff's office reports, he shot Master Deputy James Gilbreath in the head.
The South Carolina Law Enforcement Division (SLED) reported the agency's SWAT team responded to a home where the suspect was spotted Wednesday night, sent a robot inside, followed by SLED K9 Rico.
Gunshots were heard and Rico, a 3-year-old Belgian Malinois, was killed, reports NEWS 12. Burbage, armed with a rifle, exited the home through a window.
"Burbage then exited the residence where SLED SWAT and Dorchester County Sheriff's deputies engaged him when he presented the firearm and he was shot and died at the scene," SLED Chief Mark Keel in a Thursday press conference.