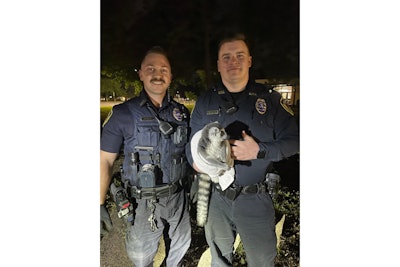 An escaped pet lemur led two officers of the Springfield (MO) Police Department on an energetic foot pursuit in a city park Tuesday.
Officers responded to a report of the exotic animal in the road and located it in the park. Then the chase was on.
After multiple attempts to snag the speedy primate. One of the officers trapped it in a towel. The officers were aided by civilians who help direct the animal back toward its pursuers.
The owners of the lemur were reunited with their pet.
But then they had to give it up.
"Unfortunately, city ordinance prohibits having wild animals, which includes lemurs, as pets in the city limits," the Springfield PD wrote on Facebook.
"This little guy's owners did end up surrendering it to animal control. The lemur has been connected to a local wildlife rescue agency where they will continue to be well cared for and loved!" the department added.
Lemurs are small animals with pointed snouts, large eyes and long tails and are native to Madagascar.