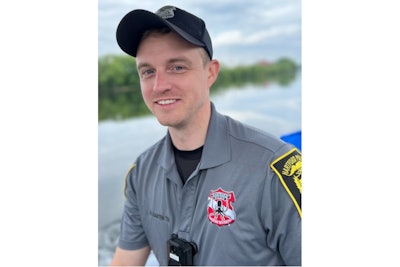 A Hartford, CT, police officer has died after a driver who was fleeing the scene of a traffic stop struck a patrol vehicle late Wednesday night, according to Hartford police. Another officer suffered injuries in the crash.
Chief Jason Thody said officers stopped a Honda Accord and the driver drove away from the stop. The officers did not pursue the Honda Accord, which allegedly ran two red lights, hitting another marked police vehicle traveling east, WTNH reports.
Thody said Officer Robert "Bobby" Garten was in the passenger's seat and Officer Brian Kearney was driving the cruiser with its emergency lights and siren on as they responded to an unrelated call. The officers were not alerted that a vehicle fled from other officers in the area, the police chief said.
Officer Garten was killed.
Officer Kearney was seriously injured. He is reportedly in stable condition.
Officer Garten, 34, was an eight-year veteran of the Hartford Police Department. He was a second-generation Hartford police officer, police said during a news conference Thursday morning.
An 18-year-old has been arrested and his bond has been set at $1 million, NBC Connecticut reports.