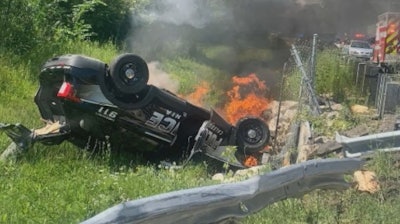 A Caledonia, WI, police officer walked away with minor injuries after his patrol SUV rolled and caught fire during a pursuit Saturday.
According to the department, a preliminary investigation revealed the officer was traveling north on State Highway 32 around 2:40 p.m. as he tried to catch up to a car that was going 90 mph in a 45 mph zone.
Police said, during that pursuit, a white SUV that was going northbound on State Highway 32 tried to turn left. The patrol vehicle and the SUV crashed, sending the patrol SUV into the ditch, where it landed on its roof and caught fire.
The Caledonia Police Department said the officer was able to free himself from the squad car with the help of civilians before the fire spread to the passenger compartment of the vehicle. He suffered minor injuries, WKOW reports.