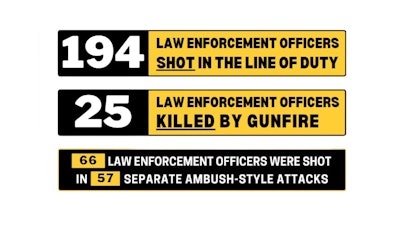 The National Fraternal Order of Police reports that as of midnight on June 29, 194 officers were shot in the line of duty so far in 2023, a 30% increase over the same time frame in 2021. Of those officers shot, 25 were killed by gunfire.
There have been 57 ambush-style attacks on law enforcement officers this year, according to the National FOP's latest monthly update.
These ambush-style attacks have resulted in 66 officers being shot. Eleven of those were killed by gunfire.
The National FOP reports the number of ambush-style attacks listed does not include the incidents where an officer was shot at but not struck by gunfire during an ambush-style attack.
"This year is shaping up to be one of the most dangerous years for police officers in recent history. In the first half of 2023, 194 heroes were shot in the line of duty. The danger law enforcement officers across the country face each day is growing due to the increase of violence directed towards them as well as the nationwide crime crisis, which has seen criminals emboldened by the failed policies of pandering prosecutors and cynical politicians," said National FOP President Patrick Yoes
More Details
So far, through the end of June 29, officers have been shot this year in most of the states — all but 15 according to the latest report.
States with the highest numbers of officers shot in 2023 are:
Pennsylvania – 14
California – 13
Tennessee – 10
Texas – 10
Florida – 9
Missouri – 9
Arizona – 8
Indiana – 7
Minnesota – 7
Washington - 7
Call for Action
"Congress has literally done nothing to address the violence towards law enforcement officers and it's time for it to happen. If these devastating statistics were to happen to any other profession in America, we would see press conferences. We would see hearings. We would demand that something be done. But somehow law enforcement officers are not recognized for the sacrifices they make," added Yoes.
"It is our sincere hope is that this Congress will act swiftly and pass the 'Protect and Serve Act' to address the national problem of ambushes and unprovoked attacks on our nation's law enforcement officers."