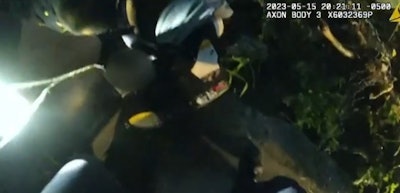 The Fort Worth Police Department has released video of its officers rescuing an infant after his mother's car was stolen Monday night with the baby still inside.
Officers responded around 7 p.m. to a report of a carjacking and found the mother at the scene. She told them that an unknown male had jumped into her car and driven off with her six-month-old baby in the car.
Police say numerous officers began searching for the vehicle and the baby.
Just over an hour after the initial call, officers located the stolen car and took the suspect into custody. The baby was not in the vehicle.
Officers questioned the suspect and acting on information he provided they found the baby still in his car seat in a nearby ravine, police said on Facebook.
The child was not injured and was reunited with his family.
The suspect was charged with kidnapping, abandoning/endangering a child, and auto theft.