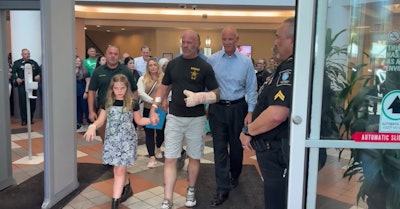 With his daughter's hand around his own, Corporal Matthew Aitken of the Pinellas County Sheriff's Office walked out of the front doors of Bayfront Hospital in St. Petersburg, just a few days after he was shot three times while on duty.
Law enforcement, barking K9s, loved ones, and hospital staff were lined up on each side of the exit Friday as Cpl. Aitken walked slowly toward an undercover patrol car, taking deep breaths. Before he entered the front passenger seat, he turned toward his peers in uniform and raised his right fist, Fox 13 reports.
On Sunday March 12, Cpl. Aitken was shot in the neck, hand, and leg while responding to a vehicle burglary report. He was with his K9 Taco, and, luckily, a Sgt. Jacob Viano was with them during the call, said Sheriff Bob Gualtieri.
Aitken and Viano were reportedly ambushed by the suspect. Aitken had no opportunity to return fire. Viano shot and killed the suspect.
After the deputy left the hospital, the sheriff told reporters that Cpl. Aitken told him he wants to get back to work.