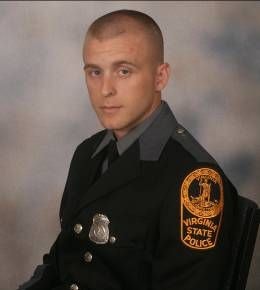 A Virginia State Police trooper was killed after another vehicle struck his cruiser in an intersection, sending it into a traffic light pole on Friday.
Adam M. Bowen, 28, died instantly in the accident. Trooper Bowen of Warsaw, Va., was heading west on Route 3/Kings Highway in his patrol car around 6:45 p.m. when he entered the intersection with Madison Drive and collided with an eastbound Hyundai Elantra.
Trooper Bowen was responding to a call for help from a state police agent in King George County. He was wearing his seat belt at the time of the crash.
"The tragic and sudden death of Trooper Bowen is a tremendous loss to his Virginia State Police family and King George County," according to Col. Steven Flaherty, state police superintendent. "Our thoughts and prayers are with Adam's family, friends, and fellow troopers during this difficult time."
Prior to joining the state police, Trooper Bowen spent five years with the U.S. Air Force National Guard. He served in Operation Iraqi Freedom and Operation Enduring Freedom. Trooper Bowen is survived by a fiancée and his parents.