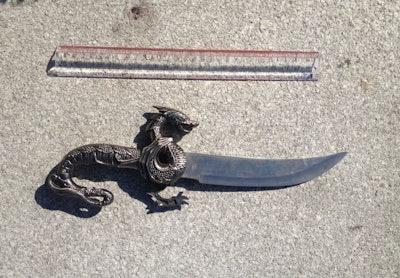 A Miami-Dade Police officer shot and wounded a 25-year-old suicidal man who was walking around Maroone Ford of Miami on Thursday morning.
The officer responded to the dealership at 16800 NW 57th Avenue in Northwest Miami-Dade after the man walked in around 10 a.m. and made suicidal threats, according to police. He was armed with a large, curved knife with a dragon handle.
The man was taken to Ryder Trauma Center at Jackson Memorial Hospital and is listed in stable condition. The knife (pictured above) was recovered from the scene, according to police.