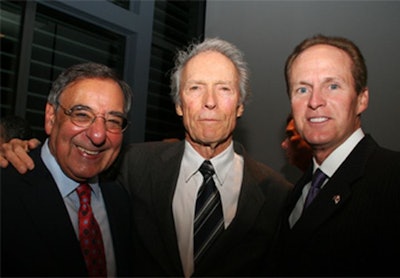 The National Law Enforcement Museum and Warner Bros. Pictures debuted legendary director Clint Eastwood's biopic, "J. Edgar," at the Newseum in Washington, D.C., on Tuesday.
Eastwood, honorary chairman of the National Law Enforcement Museum and the National Law Enforcement Officers Memorial Fund, joined special guests and dignitaries at the red carpet event, to promote a movie that examines the life of the first FBI director, J. Edgar Hoover, who is portrayed by actor Leonardo DiCaprio.
"Law enforcement is a very underrated profession—so many have given so much," Eastwood said before the film. "The dangers are always there and we're thankful for the people who keep us safe. Embracing the idea of shooting a film about J. Edgar Hoover was quite an interesting project because he was such an interesting man and there's always been a lot of discussion around him."
The National Law Enforcement Museum is the official repository of Hoover's collection of personal effects, and select artifacts from the extensive collection were on display during the movie premiere. Guests were given a first-hand glimpse of such items as Director Hoover's desk and desk accessories; original photographs from his childhood, as well as his years as FBI director; and handwritten notes from his days as a law student at George Washington University.
The National Law Enforcement Museum will include the J. Edgar Hoover Research Center, which is made possible through a donation from the J. Edgar Hoover Foundation. The foundation also donated more than 5,000 items from Director Hoover's estate, including his office desk, chair and telephone, presentation items, awards, photographs, correspondence, books, recordings of his speeches, and numerous other items that relate to his personal and professional life, including his tenure as director of the FBI from 1924 to 1972.
"Many Americans probably do not know that it was Mr. Hoover who required FBI agents to advise criminal suspects of their constitutional rights prior to arrest—15 years before the Supreme Court required Miranda warnings," said Floyd. "He also instituted many other innovations including a centralized fingerprint file, forensics laboratories, a national compilation of crime statistics, and the FBI National Academy to increase effectiveness of state and local law enforcement."
The museum will be located in the Judiciary Square neighborhood in D.C., adjacent to the existing National Law Enforcement Officers Memorial. It's scheduled to open in late 2013.