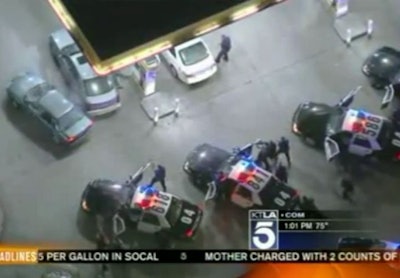 Eleven Los Angeles Police officers fired more than 60 rounds at a car-jacking suspect at a Koreatown gas station while the station's owner was caught in the cross fire.
Suspect Shonchy Thaopraseuth, 22, of San Bernardino was killed, after he pulled into a Shell gas station near Wilshire Boulevard and Vermont Avenue and pointed a revolver and bystanders. He had allegedly car-jacked two vehicles, reports the Los Angeles Times.
Thaopraseuth stole a car in San Bernardino at 3:30 p.m. Thursday. He drove to El Sereno, where he dumped the vehicle and stole a Saturn from a 65-year-old man. LAPD officers pursued him to the Shell station.
To view a KTLA news report on the incident that includes surveillance footage of the shooting, click here.