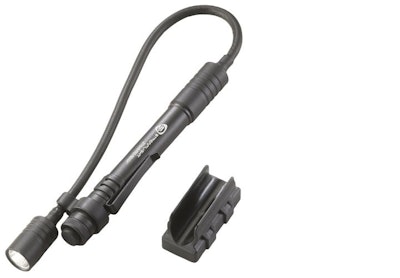 Streamlight Inc. has introduced the Stylus Pro Reach, a pen-sized flashlight with a flexible cable extension.
The compact penlight utilizes a C4 LED and comes equipped with a flexible polyethylene-coated cable that allows for 14 inches of reach that can be positioned to illuminate concealed areas. A magnetic clip is also provided for hands-free use and storage, according to the company.
"The Stylus Pro Reach combines the flexibility and brightness of the Stylus Reach with the power of the Stylus Pro for an exceptionally versatile tool," said Ray Sharrah, Streamlight's president and chief executive. "It enables industrial, automotive, and other professionals to see hard-to-reach areas such as under the hood or chassis of a car."
The light's C4 LED delivers 825 candela peak beam intensity and 38 lumens measured system output, and offers a continuous run time of eight hours. The LED is impervious to shock and has a 30,000 hour lifetime. Using two AAA alkaline batteries, the Stylus Pro Reach employs a push-button tail cap for single-handed operation, and offers a choice between momentary or "constant on" modes.
The Stylus Pro Reach measures 14.6 inches and weighs 2.7 ounces with its included batteries. The light's cable extension is approximately 7 inches in length. Highly durable, the new light is constructed of machined aluminum alloy, featuring an anodized finish, and includes an unbreakable polycarbonate lens. It is rated IPX4 for water-resistant operation, and also has been impact resistance tested to 1 meter.
The Stylus Pro Reach retails for $48.