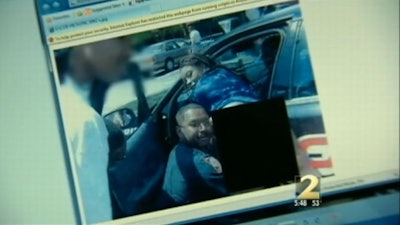 A Walton County (Ga.) Sheriff's deputy may lose his job for a racy online photo showing his hands on the buttocks of a woman while in uniform.
Deputy Thaddeus Lloyd is seen in uniform next to his patrol car with the woman who was nude from the waist down.
Lloyd has said the photo is 11 years old, and was taken when he worked at the Clarkston Police Department. It somehow made it onto Myspace and Facebook and was recently found on a confiscated inmate's cellphone that had been smuggled into a state prison.
Walton Sheriff Joe Chapman said Lloyd was a good deputy, and he said it's a shame one picture could cost Lloyd his career.