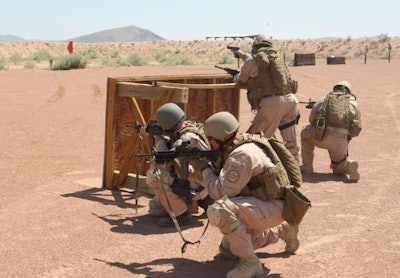 The Border Patrol unveiled a new strategy Tuesday that lays out a blueprint to effectively deploy a windfall of agents and technology acquired in the past eight years.
Chief Michael Fisher, a former BORTAC (Border Patrol Tactical Unit) supervisor who took over the agency in May of 2010, told members of the House Homeland Security Subcommittee the new plan will shift Border Patrol response from a resource- to a risk-based approach.
Chief Fisher faced tough questioning from Rep. Candice Miller (R-Mich.) during the Tuesday hearing about the 32-page strategic plan she said "lacks a tangible way to measure our efforts on the border."
In the past eight years, the number of Border Patrol agents has doubled—there are now 21,370 sworn agents—and the agency has acquired $4 billion in high-tech equipment such as mobile video surveillance, hand-held thermal imagers, and synthetic-aperature radar (SAR).
The federal agency is still working to effectively deploy these new resources, Fisher said.
The strategic plan, Miller said, shifts the agency away from an "emphasis on proven techniques" such as full use of interior checkpoints to keep illegal immigrants from successfully crossing the border. Miller said many of the initiatives listed in the plan have already been implemented.
"What is really new in this strategic plan?," Miller asked Chief Fisher during pointed questioning.
Chief Fisher said the plan provides strategic direction allowing the agency to fully optimize its capability and implement an anti-smuggling tactic known as "change detection." The agency's high-tech tools now provide detailed aerial surveillance information from rugged landscapes.
"We weren't able to do that two years ago, because we did not have the technology to look into those areas," Fisher said.
Border agents patrolling the rugged landscape between points of entry along the U.S.-Mexico border typically redeploy resources once smuggling activity has decreased. Under the new strategy, agents will maintain a presence in low-activity areas in case smugglers return, sources told POLICE Magazine.
Under the plan, the agency is expected to expand its partnerships with local law enforcement agencies to acquire better information about the threat level of detainees to determine if they are drug cartel soldiers. The agency is also expected to increase funding to local agencies who receive Operation StoneGarden funds to perform border security.
View C-SPAN coverage of Tuesday's hearing here.
By Paul Clinton
Related: