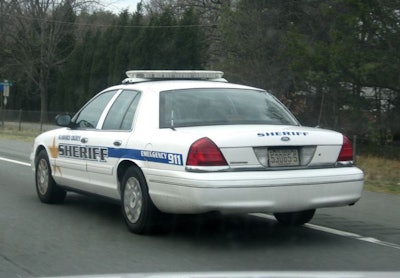 The Department of Justice accused the Alamance County (N.C.) Sheriff's Office Tuesday of racially profiling and targeting Latinos.
Federal civil rights investigators claim the office has engaged in a pattern of misconduct including targeting Latino drivers for traffic stops, setting up checkpoints outside Latino neighborhoods, arresting Latinos for minor traffic violations, and masking the conduct with "substandard reporting."
Assistant U.S. Attorney Thomas Perez detailed the findings in an 11-page letter to Almance County Attorney Clyde Albright. The Justice Department began investigating the sheriff's office and Sheriff Terry S. Johnson on June 2, 2010.
The letter comes as a precursor to a possible consent decree that would impose policy changes or require an independent monitor. The sheriff's office "must develop and implement new policies, procedures, and training in effective and constitutional policing," according to a DOJ release.
In a press conference Tuesday afternoon, Sheriff Johnson told reporters he has no intention of signing a consent decree.
"We're not changing the way we're doing anything, because we're not doing anything wrong," Deputy Randy Jones, the office's public information officer, told POLICE Magazine. "We're not going to sign a consent agreement."
In his letter, Perez wrote that federal investigators studied traffic stops on three major county roadways and found that deputies were between four and 10 times more likely to stop Latino drivers than non-Latino drivers.
Jones said in 2011 deputies made 3,696 traffic stops, including 466 (or 12.6%) of Latino drivers. Latinos make up about 11% of the county, not including illegal immigrants.
At vehicle checkpoints, deputies often insist on examining identification of Latino drivers, while allowing drivers of other ethnicities to pass through without showing identification, Perez wrote.
Deputies typically arrest drivers who fail to show a license for NOL (no operator's license), Jones said.
The investigation also found that the sheriff's office uses jail booking and detention practices, including practices related to immigration status checks that discriminate against Latinos.
Alamance deputies are authorized under the federal 287g program to act as immigration agents. After the Department of Justice accused Maricopa County, Ariz., Sheriff Joe Arpaio of similar practices, Arpaio was stripped of those powers.
The sheriff's office now employs 123 sworn personnel, including 48 patrol deputies on four shifts in a jurisdiction of 150,000 residents. In July, police departments in New Orleans and Seattle announced police reforms stemming from similar federal civil rights probes.