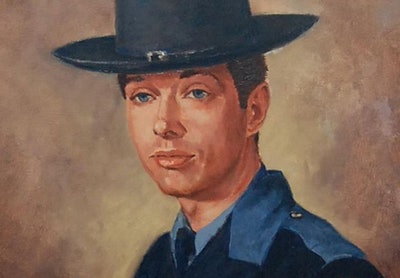 Almost three decades after the murder of Virginia Trooper Johnny Bowman, law enforcement authorities offered a $50,000 reward in hopes of solving the cold case.
The Federal Bureau of Investigation, Virginia State Police, and Manassas (Va.) Police Department announced the reward today.
"We believe that someone can still provide a piece of the puzzle that will help solve this case," said James W. McJunkin, assistant director in charge of the FBI's Washington field office. "It is important for the public to know that no piece of information is too small to share."
Trooper Bowman was killed at his home in the Bristoe Station development in Manassas on Aug. 19, 1984. He was repeatedly stabbed. The attacker fled on foot, leaving behind eyeglasses, a wig, and a construction hard hat.
Trooper Bowman died at a local hospital, leaving behind a wife and 2-year-old daughter.
Authorities have identified new information regarding DNA found at the scene through advancements in forensic testing, the FBI announced Wednesday. Forensic evidence was originally submitted to the FBI Laboratory for testing in 1984. Additional tests were conducted in the late 1990s and again in 2010.
In the 28 years since Trooper Bowman's murder, investigators have pursued leads in California, Ohio, and other states.
"I am confident that we are moving in the right direction with this investigation," said Manassas Police Chief Douglas Keen.