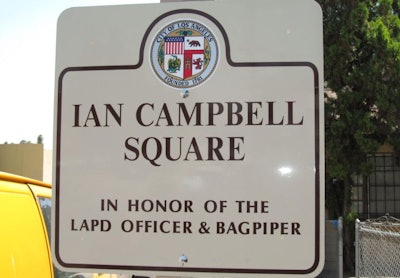 The city of Los Angeles has renamed the intersection in honor of the fallen "Onion Field" officer who was kidnapped at the location in 1963.
The intersection at Carlos and Gower streets in Hollywood will now be known as Ian Campbell Square and will have a sign marking the area. City officials unveiled the landmark today at 1:30 p.m.
L.A.P.D. Officers Campbell and Karl Hettinger were working a plainclothes deteail on March 9, 1963, when they stopped Gregory Powell and Jimmy Lee Smith.
The suspects kidnapped the officers and drove them to an onion field in southern Kern County, where Powell shot Officer Campbell in the face.
Glynn Martin of the Los Angeles Police Museum, in partnership with the Los Angeles Police Emerald Society Pipes and Drums and the Los Angeles Police Protective League, proposed renaming the intersection. Council members Eric Garcetti and Tom LaBonge introduced a City Council motion to make the change.