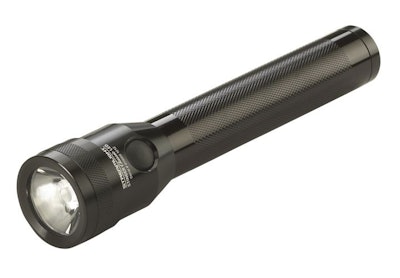 Streamlight has introduced the Stinger Classic LED, a rechargeable flashlight that is similar in size, shape and feel to the original Xenon Stinger.
The updated model offers three microprocessor-controlled variable intensity modes and a strobe function. It delivers 390 lumens and 13,200 candela peak beam intensity on the high setting, 210 lumens and 6,500 candela on medium, and 100 lumens and 3,100 candela on low. Run times range from 6 hours, 45 minutes on low to 1 hour, 45 minutes on high.
The Stinger Classic LED features a C4 LED for extreme brightness that is impervious to shock with a 50,000 hour lifetime. The light's custom optic design provides a smooth beam with optimal peripheral illumination.
The new light is available with either a three-cell, 3.6-volt Ni-Cd or Ni-MH sub-C battery, both of which are rechargeable up to 1,000 times. Fabricated from 6000-series machined aircraft aluminum with an anodized finish, the Stinger Classic LED also includes a multi-function, push-button switch.
The new light measures 7.65 inches in length and weighs only 11.1 ounces. It fits all existing Stinger-series charger holders. The available steady charger fully recharges in 10 hours on 100 volt, 120 volt, 230 volt, or 240 volt AC or 12 volt DC. A 2.5-hour fast charger and a PiggyBack charger that allows for simultaneous charging of both the light and battery also are available.
The Stinger Classic LED is IPX4 rated for water-resistant operation and is impact resistance-tested to up one meter. Available in black, the new light retails for $205.