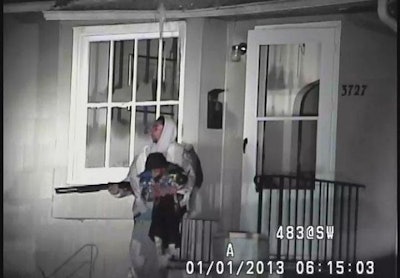 Omaha (Neb.) Police officers fatally shot a 31-year-old man who used one of his 3-year-old twins as a shield while pointing a shotgun at responding officers.
Chief Todd Schmaderer provided additional details of the Jan. 1 officer-involved shooting at a Wednesday press conference and released dash-cam stills from the incident.
Police responded to the home of Tyrone Bell early Tuesday, following a 911 call from the home. Bell's girlfriend reported he had a shotgun, reports KETV.
Bell threatened officers who first arrived at the scene and made suicidal statements. Hostage negotiators convinced Bell to release his daughter. He then exited the home with his son in one arm while brandishing a shotgun.
Bell returned inside the residence. At 6:20 a.m., Bell left the home and pointed a shotgun and rifle at officers, who fatally shot him. The children were unhurt.
Bell had a criminal history dating back 15 years and was mentally ill when he confronted officers, reports the Omaha World Herald.