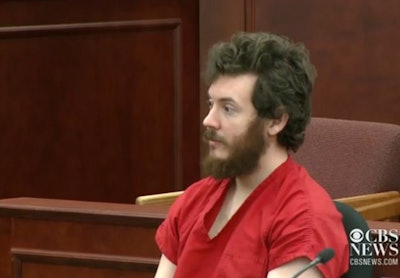 The Aurora theater shooter's psychiatrist alerted a campus police officer about her client's homicidal threats about a month before the attack, newly released documents show.
Dr. Lynne Fenton informed Lynn Whitten, a University of Colorado officer, about threats Fenton recieved after James Holmes stopped seeing her. Officer Whitten responded on June 12 by deactivating Holmes' key-card access to secure areas of campus medical buildings. On June 13, Holmes bought a 100-round magazine for his semiautomatic rifles, reports the Denver Post.
Holmes threatened Fenton in text messages and e-mails. Fenton told Officer Whitten that Holmes was "a danger to the public."
Holmes is accused of killing 12 and wounding 58 in the July 20 attack during a midnight screening of "The Dark Knight Returns." On Monday, prosecutors decided to seek the death penalty for Holmes.