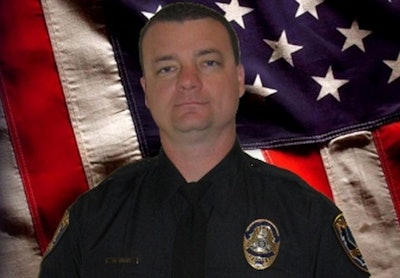 The Riverside (Calif.) Police Department identified the officer allegedly slain by a fugitive ex-cop as Officer Michael Crain, an 11-year veteran.
Crain, 34, was killed in an early Thursday ambush as he and his partner sat in a patrol car at a red light at Arlington and Magnolia avenues. The officers were allegedly fired on by Chris Dorner at about 1:35 a.m. Crain's partner, who was also struck, is expected to recover, reports the Los Angeles Times.
During his career, Crain had served as a patrol officer, and was assigned to the SWAT team. He had also served as a helicopter observer, field training officer, and firearms instructor. He had served on the University Neighborhood Enhancement Team.
Crain served two tours in Kuwait as a rifleman in the 15th Marine Expeditionary Unit, 3rd Battalion 1st Marines, according to the agency. He leaves behind his wife, a 10-year-old son and a 4-year-old daughter.
Funeral services are scheduled for 10:30 a.m. Wednesday at Grove Community Church in Riverside.