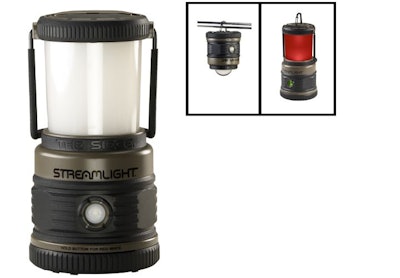 Streamlight Inc. has introduced The Siege—a rugged, cordless, LED lantern that can be used to light investigative and other crime scenes. The lantern provides 360 degrees of soft, even light, and can be configured to illuminate large areas, according to the company.
Featuring four white C4 LEDs and one red C4 LED to preserve night vision, The Siege offers users five different output modes, including a red emergency SOS signal. With its polycarbonate, glare-reducing cover, the lantern is comfortable to use in close quarters without impacting vision. With the cover removed, the lantern can provide powerful scene lighting, either by standing it upright or hanging it upside down using the light's bottom D-ring for easy attachment. The lantern will float when its globe cover is in place.
The Siege's four white LEDs feature high, medium and low modes, while its red LED includes high and SOS settings. Users can easily change the light beam color or output modes by depressing and holding the on/off button for short sequences. A recessed power button prevents users from turning the light on or off accidentally.
With the cover removed, the four white C4 LEDs deliver 340 lumens on high, 175 lumens on medium, and 33 lumens on low. The red high setting provides 10 lumens and the red emergency setting flashes at "Red high lumen level." Each white LED is impervious to shock with a 50,000 hour lifetime.
Run times for the white LEDs are 30 hours (high), 70 hours (medium), and more than 12 days (low); the red LED runs for almost 10 days on high, and the SOS mode provides more than 17 days of run time.
The Siege uses three D-size alkaline batteries. A battery indicator in the on/off button changes from green to yellow to red, and then to flashing red when the batteries are at the end of their useable life. Battery replacement is made simple by the light's center post, which helps orient the battery cover correctly every time.
The light's casing is made from tough polycarbonate thermoplastic construction with elastomer overmold. The lantern also features unbreakable polycarbonate lenses.
The new lantern measures 3.8 inches at the base and is 7.25 inches high. It weighs one pound, 15 ounces with batteries, which are not included.
The Siege is IPX7 rated for water-proof operation and is impact resistance-tested to two meters. Its included D-rings on top and bottom are spring loaded to fold out of the way when not in use. An ergonomic handle makes the lantern easy to carry; the handle also is designed to lock in either an upright or stowed position. The light's incorporated hook allows for hanging the lantern from any horizontal surface such as a rope, cable or pipe.
Available in Coyote, The Siege retails for $60.