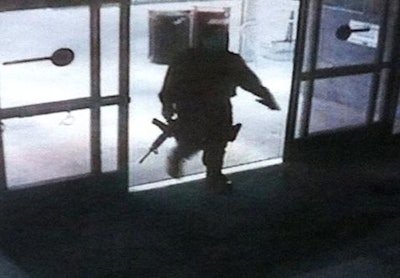 The man who killed five people in a shooting rampage at Santa Monica College Friday before he was killed in a shootout with officers carried more than 1,300 rounds of ammunition during the attack, authorities have said.
During the rampage, 23-year-old John Zawahri carried a bag that contained numerous magazines loaded with .223-caliber ammunition. Authorities also recovered a AR-15 rifle, single-shot cowboy revolver, and upper receiver. He was wearing a non-load bearing vest and knee pads, reports the Los Angeles Daily News.
Zawahri, who attended Santa Monica High School, has had a history of mental illness. He has been described by a neighbor as angry.
Authorities continue to investigate what caused Zawahri to go on the rampage that began when he killed his father and older brother and set fire to the father's home, reports CBS News.
Zawahri then went outside and shot a woman who was driving by. He then carjacked another vehicle, ordering the female driver to drive as he rode in the passenger seat, shooting at others on the street, including a bus.
The suspect then shot and killed Carlos Navarro Franco, 68, and his daughter, Marcela, in a Ford Explorer. Marcela died Sunday.
Zahwahri then abandoned the car he was riding in, headed onto campus on foot, and began shooting randomly. One woman in her fifties was struck and killed outside of the library.
Campus officers and Santa Monica PD officers caught up with Zawahri inside the library, where he had opened fire as students studied for their final exams. Officers shot and killed Zawahri. Five people plus the gunman died as a result of Friday's shootings. Students returned to campus today.
Authorities have said there was no indication Zawahri had "subscribed to any extremist ideologies," reports NBC News.