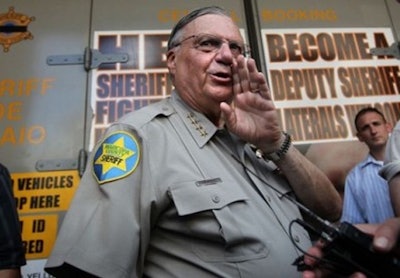 An Arizona sheriff who led the way for local police across the country to take up immigration enforcement is reconsidering his crackdowns—and other law enforcement officials who followed his lead are expected to eventually back away, too.
Joe Arpaio, the sheriff for Maricopa County and metropolitan Phoenix, has temporarily suspended all his immigration efforts after a federal judge concluded two weeks ago that the sheriff's office had racially profiled Latinos in its patrols, Arpaio spokesman Brandon Jones told the Associated Press.
Arpaio critics, including the federal government, are gaining ground in their fight to get the sheriff out of immigration enforcement. Even before the ruling, Washington had stripped Arpaio's office of its special federal immigration arrest powers and started to phase out the program across the country amid complaints that it led to abuses by local officers.
Read the full Associated Press story.
Related:
Ariz. Sheriff Joe Arpaio To Appeal Racial Profiling Ruling
DOJ Sues Sheriff Arpaio for Discrimination
Sheriff Arpaio Calls DOJ Report 'Sad Day for America'
Feds Sue Sheriff Arpaio, Claiming Discrimination Against Hispanics