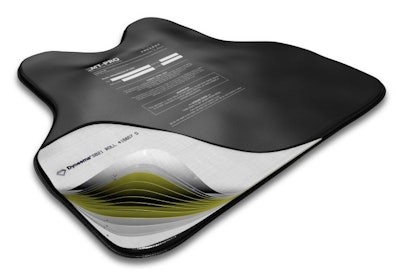 EnGarde has introduced a new MT-Pro multiple-threat panel that fits in many of our popular ballistic models such as the DeLuxe, Patrol, and Leopard.
By integrating Dyneema fabrics from DSM with our proven TitanSkin anti-stab technology, the company developed a panel that adds stab protection without sacrificing either superior ballistic performance or comfort, according to EnGarde.
The MT-Pro panel meets the standards of NIJ Level IIIA, and was tested against eight different types of ammunition, according the the company. The MT-Pro passed the additional testing with flying colors, providing excellent performance against close to the edge shots and demonstrating compliance with NIJ STD 0101.06, including the 30-minute water submersion test.
FBI crime statistics confirm that stabbing and cutting weapons are just behind firearms as the most likely threats faced by law enforcement, security personnel and corrections officers. While the death rate from attacks by stabbing weapons is lower, the overall injury rate is higher resulting in increased insurance costs and employee downtime.
The new MT-Pro addresses the additional threats without making the panels noticeably heavier or less flexible. Comfort is an important consideration for people who have to wear body armor for extended periods of time, particularly in hot climates, according to the company.
Those who work in corrections, law enforcement and security will appreciate the comfort and extra level of stab protection offered by the MT-Pro one of the few products to be officially certified to stop the HOSDB P1 Blade at 15 Joules (<20mm) and a hypodermic needle at 5 Joules, according to VPAM KDIW 2004.