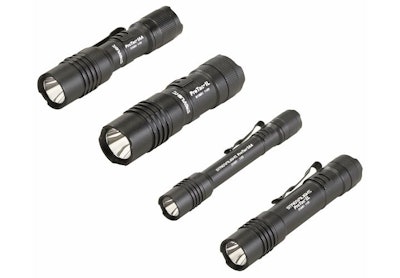 Streamlight has upgraded the lumen light output of its compact ProTac tactical lights, including the ProTac 1L, ProTac 2L, ProTac 1AA, and ProTac 2AA.
All four upgraded lights now feature Streamlight's new Ten-Tap programming that enables users to select among high/strobe/low (the factory default setting); high only; or low/high.
On high, the upgraded lights now feature a range of 70 to 260 lumens and run times of up to three hours; on low, run times range from 24 to 50 hours. On the strobe setting, the ProTac 2L runs for six hours, while the other three lights run for four hours.
The ProTac 1L and ProTac 2L use one or two 3-volt CR123A lithium batteries, respectively, which have a shelf life of 10 years. The ProTac 1AA and the ProTac 2AA are powered by one and two AA alkaline batteries, respectively; the use of a lithium battery will extend the run time of the ProTac 1AA.
Each light features a C4 LED for extreme brightness. A multi-function, push-button tactical tail switch allows for one-handed operation of the lights' momentary, variable intensity, and strobe modes.
Similar to other models in the ProTac series, these lights are thin and easy to carry, weighing between 2 and 3.4 ounces with batteries, and measuring between 3.43 and 6.14 inches.
With bodies fabricated from machined aircraft aluminum with an anodized finish, the lights also feature an anti-roll face cap and a glass lens that is O-ring sealed. All four lights are IPX7 rated for waterproof operation to one meter for 30 minutes, and are two-meter impact resistance tested. Each includes a removable pocket clip and holster. The ProTac 1AA, ProTac 2AA, ProTac 1L, and ProTac 2L retail for $68, $70, $72, and $80 respectively.