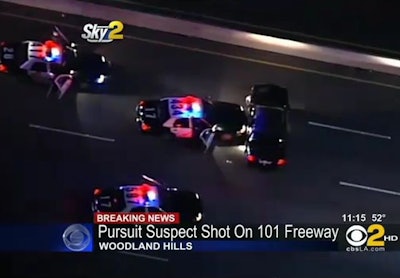 A federal judge dismissed a $120-million wrongful death lawsuit filed against the LAPD by the family of a 19-year-old shot by officers following a pursuit on the Hollywood (101) Freeway in Woodland Hills.
The family of Abdul Arian had sued the city and the department following the April 2012 incident, when eight officers fired more than 90 rounds at Arian, who was unarmed.
Arian had called 911 and threatened to "pull my gun out on them." Arian led officers on a brief, high-speed chase before stopping his vehicle in eastbound lanes. He got out and made weapon-pointing gestures at officers, who shot and killed him.
Related:
Family of Fatally Shot Teen Sues L.A. for $120M
Teen Shot by LAPD Was Dropped From Explorer Program