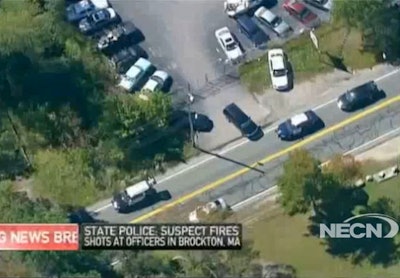 A suspect who fired at pursuing Massachusetts officers on Monday afternoon is now in grave condition and an officer is expected to fully recover because his body armor stopped a round.
The firefight occurred in Brockton following the robbery attempt at a CVS pharmacy, reports MyFoxBoston. Video from the scene shows a black pickup truck surrounded by crime scene tape. The pursuit ended at 12:30 p.m. in the area of Thatcher Street, reports NECN.
Officers with the Brockton Police Department and Massachusetts State Police were involved in the chase. The suspect reportedly fired a shotgun at an officer, who was wounded by the blast.