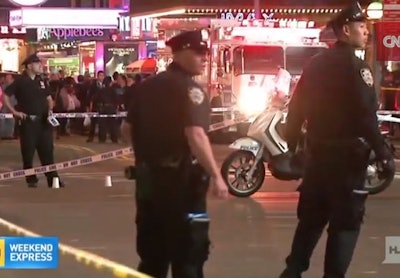 Two bystanders were hit when NYPD officers opened fire in Times Square on Saturday evening after a disoriented man jumped into the path of oncoming traffic.
The bizarre scene unfolded in the intersection of West 42nd Street and Eighth Avenue. Officers confronted Glenn Broadnax, 35, after he stopped traffic at about 9:30 p.m. Broadnax ignored officers' commands and eventually reached into his pants pocket, withdrawing his hand and pointing it at officers as if it were a gun.
Two officers opened fire, discharging three bullets that missed Broadnax and struck two women nearby. A sergeant then used a TASER to subdue Broadnax, who later told police he "wanted to die." Broadnax also told police he was off his medication and had heard voices in his head. The Brooklyn man has 23 prior arrests for assault, robbery, and criminal possession of a weapon, reports the New York Daily News.
Commissioner Ray Kelly has declined to comment on the officer-involved shooting only to say the investigation continues, reports the New York Times.