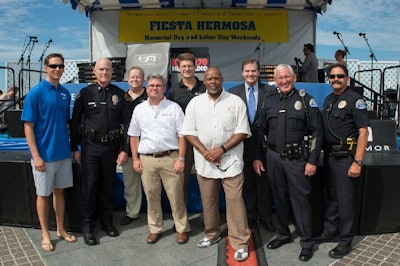 U.S. Armor presented 18 upgraded ballistic vests to two Southern California police departments during the Vests for the Best event in Hermosa Beach, Calif., on Aug. 31.
Command staff members from the Hermosa Beach Police Department and Redondo Beach Police Department accepted the vests from corporate sponsors.
Available in threat level 3A, the new Enforcer XLT vest protects officers from handgun threats up to a .44 Magnum. The vests are thin, light, and heat-resistant to provide officers with a reduced level of heat stress and fatigue, and increased flexibility for comfort, according to U.S. Armor.
The event was organized by Civil Service Employees (CSE) Insurance Group, in partnership with Sheriffs and You Foundation (SAY) and Bichlmeier Insurance Services to show their appreciation for law enforcement.