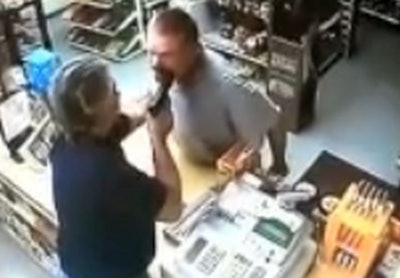 A veteran of four tours in Iraq stopped an armed robbery at the Marionville, Mo., liquor store where he works Sunday by drawing his own handgun and pointing it in the suspect's mouth.
Jon Lewis Alexander, 54, was captured on a video surveillance camera quickly responding when the robber entered Beer 30 and began to point his handgun at Alexander. The robber demanded "all the f**king money."
Alexander pushed the man's gun aside with his left hand and quickly drew his Walther PPK 9mm pistol. He told the man he would "blow his f**king head off" as the man backs away from the counter.
"One of the policemen told me later, 'You're a lucky man,'" Alexander told the News-Leader Monday. "I said, 'I think he is a little luckier than I am.'"