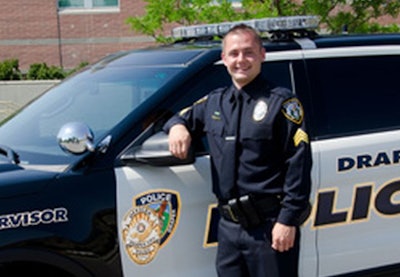 A Draper (Utah) Police sergeant radioed for help after being fatally shot while he drove his police cruiser toward an awkwardly parked vehicle early Sunday.
Sgt. Derek Johnson, 32, was met with gunfire as he approached a silver Volvo at 6 a.m. at 132 S. Fort St. in the upscale neighborhood. Sgt. Johnson was shot several times and continued driving his patrol vehicle. Authorities rushed to the scene after receiving an "unintelligabe radio communication" from the officer, who crashed into a tree. The officer was transported to Intermountain Medical Center where he was pronounced dead, according to a city press release.
The man suspected of shooting Sgt. Johnson apparently also shot a woman and later turned the gun on himself, reports Deseret News. Prior the the shooting, the man and woman were involved in a hit-and-run accident.
Sgt. Johnson leaves behind a wife and 7-year-old son.