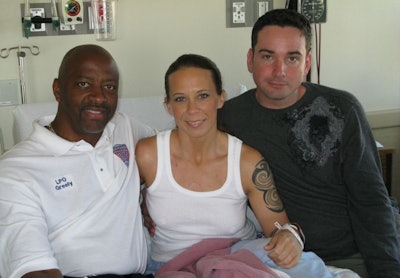 The police officer who first arrived on the scene of the Fort Hood shooting testified Friday about the weapon malfunction that likely saved her life.
Kimberly Munley, who was laid off from the civilian base police force in 2011, responded to the Soldier Readiness Processing site on Nov. 5, 2009 after Maj. Nidal Hasan allegedly opened fire.
She "began blindly exchanging fire" with Hasan, Munley told a jury. Prosecutors showed footage from Munley's patrol car video system showing her pulling up to the chaotic scene.
Hasan opened fire on Munley and retreated behind a building. She used a flanking move to engage Hasan, as the two again exchanged fire. Munley was hit three times, as Hasan headed toward her, and his weapon jammed, reports the Killeen Daily Herald.
As he stood over Munley, his FN 5.7 with a 30-round magazine stopped firing. As he attempted to clear his weapon, Sgt. Mark Todd yelled at Hasan to drop the weapon. Todd then fired, paralyzing Hasan and ending the rampage.
Related: